We Provide the 14 hour Continuing Education
that's Exactly What You Need to Renew Your License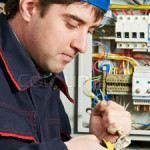 Florida Contractor Continuing Education
Electrical (ECLB) Classroom Course – Schedule 2018
Enrollment Questions? GSI • 800.223.5457

14 HOUR ELECTRICAL (ECLB) PACKAGE
Includes Both the Day 1 Contractor Legal Compliance Course
and the Correspondence Course
---
7 HOUR CLASSROOM COMPLIANCE COURSE ONLY
For those who have taken their 7 Hours of Technical Subjects

AVAILABLE IN THE FOLLOWING CITIES
(Alphabetical Order)
Continuing Education Electrical Contractor
CLEARWATER-CLOSED for 2018
Location:
Holiday Inn
3535 Ulmerton Road
727•577•9100

14 HOUR ELECTRICAL (ECLB) PACKAGE
Day 1 Classroom
Plus Correspondence Course

 Tuition $239.00
7-Hour Compliance Course Only
Day 1 Classroom

 Tuition $149.00
---
Continuing Education Electrical Contractor
COCOA BEACH-CLOSED for 2018
Location:
Hilton
1550 N Atlantic Ave
321•799•0003

14 HOUR ELECTRICAL (ECLB) PACKAGE
Day 1 Classroom
Plus Correspondence Course

 Tuition $239.00
7-Hour Compliance Course Only
Day 1 Classroom

 Tuition $149.00
---
Continuing Education Electrical Contractor
DAYTONA-CLOSED for 2018
Location: 
Hampton Inn Daytona Airport
1715 West International Speedway
386•257•4030

14 HOUR ELECTRICAL (ECLB) PACKAGE
Day 1 Classroom
Plus Correspondence Course

 Tuition $239.00
7-Hour Compliance Course Only
Day 1 Classroom

 Tuition $149.00
---
Continuing Education Electrical Contractor
DESTIN-CLOSED for 2018
Location: 
The Palms of Destin
4201 Indian Bayou Trail
850•351•0500

14 HOUR ELECTRICAL (ECLB) PACKAGE
Day 1 Classroom
Plus Correspondence Course

 Tuition $239.00
7-Hour Compliance Course Only
Day 1 Classroom

 Tuition $149.00
---
Continuing Education Electrical Contractor
FT. MYERS-CLOSED for 2018
Location: 
Crowne Plaza
13051 Bell Tower Drive
239•482•2900

14 HOUR ELECTRICAL (ECLB) PACKAGE
Day 1 Classroom
Plus Correspondence Course

 Tuition $239.00
7-Hour Compliance Course Only
Day 1 Classroom

 Tuition $149.00
---
Continuing Education Electrical Contractor
GAINESVILLE-CLOSED for 2018
Location:
Best Western Gateway Grand Hotel
4200 NW 97th Blvd
352•331•3336

14 HOUR ELECTRICAL (ECLB) PACKAGE
Day 1 Classroom
Plus Correspondence Course

 Tuition $239.00
7-Hour Compliance Course Only
Day 1 Classroom

 Tuition $149.00
---
Continuing Education Electrical Contractor
HOWEY-IN-THE-HILLS-CLOSED for 2018
Location: 
Mission Inn
10400 C.R. 48
352•324•3101

14 HOUR ELECTRICAL (ECLB) PACKAGE
Day 1 Classroom
Plus Correspondence Course

 Tuition $239.00
7-Hour Compliance Course Only
Day 1 Classroom

 Tuition $149.00
---
Continuing Education Electrical Contractor
HOWEY-IN-THE-HILLS-CLOSED for 2018
Location: 
Mission Inn
10400 C.R. 48
352•324•3101

14 HOUR ELECTRICAL (ECLB) PACKAGE
Day 1 Classroom
Plus Correspondence Course

 Tuition $239.00
7-Hour Compliance Course Only
Day 1 Classroom

 Tuition $149.00
---
Continuing Education Electrical Contractor
JACKSONVILLE-CLOSED for 2018
Location:
Holiday Inn
11083 Nursery Fields Drive
904•854•8000

14 HOUR ELECTRICAL (ECLB) PACKAGE
Day 1 Classroom
Plus Correspondence Course

 Tuition $239.00
7-Hour Compliance Course Only
Day 1 Classroom

 Tuition $149.00
---
Continuing Education Electrical Contractor
LAKELAND-CLOSED for 2018
Location:
Hilton Garden Inn
3839 Don Emerson Dr
863•647•0066

14 HOUR ELECTRICAL (ECLB) PACKAGE
Day 1 Classroom
Plus Correspondence Course

 Tuition $239.00
7-Hour Compliance Course Only
Day 1 Classroom

 Tuition $149.00
---
Continuing Education Electrical Contractor
NAPLES-CLOSED for 2018
Location:
Doubletree Suites by Hilton
12200 Tamiami Trail North
239•593•8733

14 HOUR ELECTRICAL (ECLB) PACKAGE
Day 1Classroom
Plus Correspondence Course

 Tuition $239.00
7-Hour Compliance Course Only
Day 1 Classroom


Tuition $149.00
---
Continuing Education Electrical Contractor
OCALA–CLOSED for 2018
Location:
Hilton Ocala
3600 SW 36th Avenue
352•854•1400

14 HOUR ELECTRICAL (ECLB) PACKAGE
Day 1 Classroom
Plus Correspondence Course

 Tuition $239.00
7-Hour Compliance Course Only
Day 1 Classroom

 Tuition $149.00
---
Continuing Education Electrical Contractor
ORLANDO-CLOSED for 2018
Location:
Hilton Orlando/Altamonte Springs
350 Northlake Blvd
407•830•1985

14 HOUR ELECTRICAL (ECLB) PACKAGE
Day 1 Classroom
Plus Correspondence Course

 Tuition $239.00
7-Hour Compliance Course Only
Day 1 Classroom

 Tuition $149.00
---


Continuing Education Electrical Contractor
PENSACOLA–CLOSED for 2018
Location:
Hilton Garden Inn
1144 Airport Blvd
850•479•8900

14 HOUR ELECTRICAL (ECLB) PACKAGE
Day 1 Classroom
Plus Correspondence Course

 Tuition $239.00
7-Hour Compliance Course Only
Day 1 Classroom

 Tuition $149.00
---
Continuing Education Electrical Contractor
PORT ST. LUCIE–CLOSED for 2018

Location:
Holiday Inn Express
1601 NW Courtyard Circle
772•879•6565

14 HOUR ELECTRICAL (ECLB) PACKAGE
Day 1 Classroom
Plus Correspondence Course

 Tuition $239.00
7-Hour Compliance Course Only
Day 1 Classroom

 Tuition $149.00
---
Continuing Education Electrical Contractor
SARASOTA–CLOSED for 2018
Location:
Holiday Inn
8009 15th Street East
941•355•9000

14 HOUR ELECTRICAL (ECLB) PACKAGE
Day 1 Classroom
Plus Correspondence Course

 Tuition $239.00
7-Hour Compliance Course Only
Day 1 Classroom

 Tuition $149.00
---
Continuing Education Electrical Contractor
TALLAHASSEE–CLOSED for 2018

Location:
Hampton Inn
3388 Lonnbladh Rd
850•574•4900

14 HOUR ELECTRICAL (ECLB) PACKAGE
Day 1 Classroom
Plus Correspondence Course

 Tuition $239.00
7-Hour Compliance Course Only
Day 1 Classroom

 Tuition $149.00
---
Continuing Education Electrical Contractor
West Palm Beach–CLOSED for 2018
Location:
Hilton Palm Beach Airport
150 Australian Ave
561•684•9400

14 HOUR ELECTRICAL (ECLB) PACKAGE
Day 1 Classroom
Plus Correspondence Course

 Tuition $239.00
7-Hour Compliance Course Only
Day 1 Classroom

 Tuition $149.00
---

The Courses You Need.
Interactive, Entertaining,
Collaborative, Informative…
And Coming to a City Near You!
For the classroom attendee, Electrical Contractors only have to come to One Day of Class; Day 1  – The 7 (Seven) Hour Compliance Course.
Electrical contractors also complete The 7 (Seven) Hour Technical Subject Matter Requirement through a Correspondence Course with Gray Systems – Mailed to you upon your registration for our Classroom Program.
GSI offers easy and convenient classroom courses in locations throughout Florida  IN THE CITY OF YOUR CHOICE:
• Classes begin at 8:00 AM and end at 4:00 PM
• Registration begins at 7:30 AM
• Lunch on your own from 12:00 PM to 1:00 PM
• Certificates are given at the end of class if you have pre-registered.  All others are sent out within a week.
• All reporting is completed to the state within a week of class.
• We conduct classes with great live instructors. Our classes are interactive and set in a casual atmosphere. Enjoy FREE Coffee, the morning of class!
• Course manuals are provided when you arrive for class.