Florida ECLB Continuing Education Requirements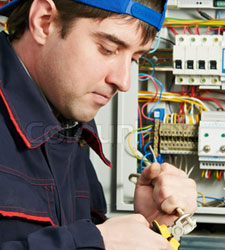 14 Hours Each 2 (Two) Year License Period
Florida Electrical Contractors are required to complete 14 hours of Board Approved Continuing Education foreeach two-year license period. License period goes from September 1 of even numbered years through August 31 of the next EVEN numbered year. The 2-year renewal cycle ends August 31 of those EVEN numbered years. GSI offers contractor classroom and correspondence courses designed specifically to fulfill the state's ECLB CE requirements. Unsure how many hours you need?  Visit our Frequently Asked Questions or Contact Us.
The Courses You Need.  Online, Or in a City Near You!
Classroom Courses
For the classroom attendee, Electrical Contractors only have to come to One Day of Class; Day 1  – The 7 (Seven) Hour Compliance Course.
Electrical contractors also complete The 7 (Seven) Hour Technical Subject Matter Requirement through a Correspondence Course with Gray Systems – Mailed to you upon your registration for our Classroom Program.
GSI offers easy and convenient classroom courses in locations throughout Florida.  To view our state-wide schedule of 2016 classroom courses, click below.

• Classes begin at 8:00 AM and end at 4:00 PM
• Registration begins at 7:30 AM
• Lunch on your own from 12:00 PM to 1:00 PM
• Certificates are given at the end of class if you have pre-registered.  All others are sent out within a week.
• All reporting is completed to the state within a week of class.
• We conduct classes with great live instructors. Our classes are interactive and set in a casual atmosphere. Enjoy FREE Coffee/Tea during class!
• Course manuals are provided when you arrive for class.

Gray's Academy Online
To view our online course packages, click here.  
Out on the job a lot? Sure you are!  Then take your required courses online with GSI. You can sit in the comfort of your home or office and do your courses at your convenience. All courses are approved by the Electrical Contractors Licensing Board and satisfy ECLB Continuing Education requirements for ALL contractors:

  •  Specialty Electrical Contractors
  •  Electrical Contractor
  •  Alarm Contractor I and II
  •  Lighting Maintenance Specialty

  •  Sign Specialty
  •  Residential
  •  Limited Energy
  •  Utility Line

Our Online Courses are the best in the industry:
• Simple and easy to use subject matter
• Narrated for your ease of learning and understanding
• Self paced so it accommodates your busy schedule – take it when and where you like!
• Quick and easy evaluation of your understanding of the subject matter.
• Course completion submitted immediately
• Your completion certificate available immediately
Note: Contractors who are engaged in alarm system contracting must take a 2 (two) hour false alarm prevention course as a part of their continuing education. GSI does not currently have these hours in our program. We plan on have an online course for this requirement shortly. For questions – Contact Us.

If you hold both ECLB and CILB Licenses…
We'll help you put together the courses you need in order to meet your dual license requirements. Simply, email us at E-mail Support or call us at 800.223.5457

Why GSI? So Many Options To Suit Your Needs!

• 1 (One) Day 7 (Seven) Hour Course & the 7 (Seven) Hour Technical Correspondence Course
to satisfy all of your 14 hour requirement.
• 1 (One) Day 7 (Seven) Hour Compliance Classroom Course Only – if that is all you need.
• 7 (Seven) Hour Technical Correspondence Course Only – if that is all you need.
• Gray's Academy Online –Take courses at your pace and on your schedule.
• Convenient Classroom Course Locations, Dates & Times:
• We maintain accurate up-to-date records of your GSI continuing education hours.
• We are also your license law resource for any questions or issues after your class.
• Rapid reporting of course attendance to state the next business day.

Questions?
We're here to help you through license renewal process!
If you have more questions or simply want more information, choose one of the options below:
Frequently Asked Questions
Speak with a Representative at 800.223.5457