Start NOW! Click HERE

• Course available on your time,
• at your pace
• High quality visuals
• Professionally narrated audio
• Check in and out
• of your course at will
• GSI phone and online support
• 24/7 with real people
• Start immediately
• Mandatory core course included
• Large selection of electives
• Self-paced to fit
• your work schedule
• Prompt electronic reporting
• Excellent student feedback
• No need to take time from work…
• stop/start on your schedule
• You asked, we heard
• Same credentials, same certification,
• when it works for you

Another option from your
education professionals,
Gray Systems Incorporated…
making education work
for you, with you, by you.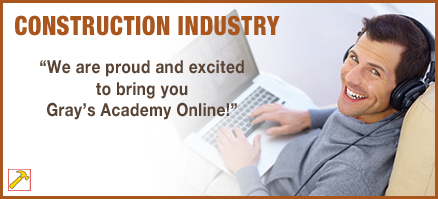 Questions & Answers
[toggle]
[section_toggle name="Can I try a course for free to see if I like it?"]Yes, and without using your credit card to get in!
Just click the link and enjoy a few frames of our Laws and Rules course.
http://courses.graysystems.com/lawsdemo/[/section_toggle]
[/toggle]
REPORTING YOUR CREDITS
[toggle]
[section_toggle name="How do they get reported?"]When you click "continue to exit" on the very last frame of a course, we are immediately notified that you have completed the course.
Your credit is immediately sent to DBPR.[/section_toggle]
[section_toggle name="How long does it take for my credits to show up in the DBPR records?"]From 24 to 48 hours, depending on internet traffic in the state database.[/section_toggle]
[section_toggle name="How often does Gray Systems report our courses?"]Twice a day on business days and once a day on weekends.
Usually around 9 a.m. and 6 p.m. but don't hold us to it… in the electronic world, things occasionally happen.[/section_toggle]
[section_toggle name="How do I know the credit has been sent?"]In your course record on the GSI website, in the "recorded" column, you will see a "y". (yes… this course has been satisfactorily completed and reported to DBPR.)[/section_toggle]
[section_toggle name="How do I know when the DBPR has received it?"]
We recommend that you sign up to communicate ONLINE with the department: www.myfloridalicense.com
You must establish your online enrollment and supply them with a username and password; thereafter you can get in to do such things as view your continuing education credits, pay your license fee, and change your address or other information.
To check on your credits and pay for activation online, set up an account at www.myfloridalicense.com
• Click "Renew Your License"
• Click Construction Industry
• Click "Continue to Online Services"
• Click "Create My Account" at Bottom Right
• Follow Instructions, Use Email Address as User ID
• Click "Next"
• You will be sent a Temporary Password to Your Email Address in a couple of minutes.
• Copy the Password they send you and Paste it in the "Password" box. Also, Put your Email Address in the Email Box.
• Logon
• Put in the Temporary Password in the new screen and Change the Password to Your Own… Instructions are included for your Password Characters on that screen.
• You will be asked if you would like to link your existing license to this account and click "Yes"
From there you will be able to access your account anytime to check on continuing education or pay your fees and update your address, etc.
Please let me know if I or my team members can help you in any way. Great working with you! Please tell your friends about us and I will see you next time. Best regards, Suzanne
[/section_toggle]
[/toggle]


Instructions
[toggle]
[section_toggle name="How do I sign up for the online courses?"]
It's Easy with: 
[/section_toggle]
[section_toggle name="Who do I contact if I need help with my courses?"]Just send and email to: gsi@graysystems.com or sgray@graysystems.com[/section_toggle]
[section_toggle name="How do I stop in the middle of a course?"]That's Easy!
There is an "X" just right of the title of your course on the course slide.
When you Click that X, and Click "Continue to Exit," Your Time will be Automatically Recorded and
You can Come Back into the Course at Your Convenience and Begin where You Left Off.[/section_toggle]
[section_toggle name="I clicked the X at the top right corner of my computer monitor and everything went away… can I get it back?"]
No – Unfortunately, you closed your browser and you will have to start over.
note: if for any other reason such as a thunderstorm causing a power outage or maybe you need to do other computer work at the same time (but forget to open a second browser to do that), your work will be lost as well… don't do that!
[/section_toggle]
[section_toggle name="What happens if I can't finish the exam for some reason?"]
I was taking the first exam and after a couple of questions stopped to go review something in the modules.
I came back to continue the exam and it failed me for stopping and not answering the questions.
I understand "now" you can't do that, how do I get back into the first exam to take it over?
First, "X" out of the SLIDE X next to the Course Title. Then come back in.
If you haven't X'd out of the browser already, your time will be saved.
If not, you'll have to let the time run out in order to get your certificate.
Then go to the "Conclusion" Slide in the Table of Contents and You Can Start Your Exam Again.
Please call 352-409-1694 if you need help right away.
[/section_toggle]
[/toggle]

What do others say about
Gray's Academy Online?
"Sam Price is 87 years old, a University of Florida graduate, and is taking your online courses."
– From Fred Pollitt
"I've been doing business with Gray Systems since 1997 and I can say it has been a pleasure… every representative of your company has been very accommodating without fail. This year I tried your ONLINE courses and really enjoyed them… the audio, images and contents were excellent. I even had time to take my 4 year old grandson golfing! Thanks."
– TA Turner
"I just want to say that I am really enjoying your online courses… they work beautifully. Enjoy the audio and the fact that I can "bookmark" the page I am on when I need to take a break or whatever and get back in whenever I am ready without losing my accumulated time."
– Sealy