Part VIII,
Chapter 468, F.S.

Requires individuals and firms be licensed who provide community association management services for community associations where the individual or firm manages an association or associations with more than 10-units or a total budget(s) in excess of $100,000.00. Management services include:
– Controlling or disbursing funds
– Assisting in noticing or conducting meetings
– Preparing budgets or other financial documents
– Coordinating maintenance
In order to receive a community association manager license, an individual must submit
an application to the DBPR and complete
an 18 hour prelicensure course.
Access the DBPR Application and Instructions for filing and also get information on licensing requirements, check the status of
an existing application, apply using a printable application or access the new online application system if available for the specific business
or profession.

How do I contact the Florida Department of Business & Professional Regulation (DBPR)?

How do I make an appointment for electronic fingerprinting at one of the Florida electronic fingerprinting sites and are there any restrictions?

Gray Systems Incorporated
Offers What you Need!
In 2010 I took your class to get my CAM License when I was the rental clerk for an HOA in New Smyrna Beach. Soon after taking your class, I had learned so much and had the confidence I needed to go after the position as property manager. The original book given to me has been my reference "go to" book ever since. I have taught my Board to reference this book as well. "The Book" as I call it, has been the best tool for me and my Association and for that I thank you!"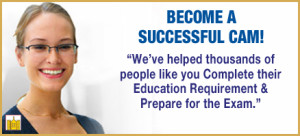 Take Our Course and
PASS YOUR STATE EXAM THE FIRST TIME!


Community Association Manager
Pre-licensure Course
Our highly interactive, two day, 18 hour course will prepare you to pass the state exam. Because we focus on learning instead of simply exam preparation, we have the highest success rate in the industry; and you'll remember what you learned long after the test.  We know that what we do works. How?  Because more licensed Community Association Managers have taken their class with us than any other provider!

GSI offers the 18-hour (2 Day) pre-licensure classroom course in Orlando, Fort Lauderdale/Hollywood (Dania), and Destin. The course is also available in a Correspondence Format which you can complete on your schedule in the comfort of your home or office. We hear from many people that GSI's Exam Preparation Manual has become the anchor of their community association management library.
What You'll Learn
CAM Pre-licensure Course Subject Matter
"State and Federal Laws and Governing Documents"This part provides an overview of the community association concept, an explanation of the laws that govern and effect community associations. You will also learn how the governing documents work.
"Meetings and Procedures of the Association"The community association is a lot like a government. You have to know about membership meetings, voting and election procedures, board meetings and committee meetings. The course also covers the rights and duties of the membership and the board.[/section_toggle] [section_toggle name="Budget and Financial Affairs"]The financial operations of the community associations are established in the budget, which covers operating expenses and capital expenditures and deferred maintenance. In addition, we cover financial reporting taxes and employment laws.
"Insurance"The course provides instruction in the requirements for insurance as related to association property and unit owner property. Also covered are general liability insurance issues, directors and officers liability insurance, fidelity bonds and more.
"General Management"This section covers human resource management topics, maintenance programs, maintenance contracts, maintenance standards, the rights of the association to restrict owner rights and arbitration of disputes. Also covered are special, statutory provisions related to fire safety, elevators, pools, security guards and pest control.
When you take our Pre-licensure course, you not only will be highly prepared to take the Community Association Manager's exam, you also will be informed about all community association managers' responsibilities. In fact, your course manual may well become the favorite book in your CAM library, as well as the favorite books of your board of directors.
TOPICS COVERED:
• Which laws govern and affect community


•

associations (Learn how they work too!)
• Membership meetings, board and


•

committee meetings
• Voting and election procedures
• Financial operations including budgeting


•

for operating expenses, capital expenditures


•

and deferred maintenance
• Financial reporting requirements
• Insurance requirements for the association


•

property, unit owner property, general


•

liability, directors and officers liability


•

insurance, fidelity bonds and more
• How to approach human resource


•

management, maintenance programs,


•

contracts and standards, association


•

rights to restrict owner rights and


•

arbitration of disputes
• Special statutory provisions related to


•

fire safety, elevators, pools, security guards


•

and pest control
• How to get in touch with Fred Gray


•

for any questions you have in the future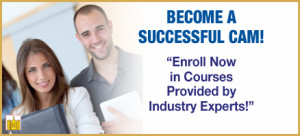 Classroom Courses
We conduct classes with top of the line instructors, who will be there for you in you long after you have taken your exam-always just a phone call or email away to answer your questions.
Our instructors are the best in the business with over 25-years of CAM teaching experience. And, we offer the industry's best materials, as well. (In fact, we helped write the state's study guide!).  Lastly, we were the first school to offer CAM education and are, by far, the largest.
Our classes are interactive and we teach you everything you need to know to pass the state exam. Because the class is from 8 to 5:30 we recommend casual, comfortable dress and bring a sweater or light coat (The air conditioning temperature varies).
– Classes begin at 8:00 a.m.


–

ending at 5:30 p.m.

– Registration begins at 7:30 a.m.

– Lunch on your own from 12 until 1

– Certificates are given at the end


–

of class when you pre-register;


–

otherwise, emailed or mailed


–

within 5-business days
The Gray Systems CAM Pre-Licensure
classroom course includes our comprehensive
and easy-to-read course materials, two days of
exciting and informative classroom instruction
and free attendance in any other CAM
Pre-Licensure course for up to one year.
Most of the classroom courses are taught
by Fred Gray, who, literally, wrote the book
for CAM licensing.

---
Correspondence Courses
Get the same great instruction in the comfort of your own home, on your own schedule. Our correspondence courses are engaging, comprehensive and ideal for those who simply can't take time for a classroom course (although we highly recommend doing so, as they're well worth the investment of your time!)
• You receive our course manual by mail


•

or download.
• Go through the material on your


•

schedule and complete the


•

100 question final examination.
• You must mail, fax or email the


•

examination answer sheet with your


•

registration information to us.
• We grade the exam.
• If you are successful on the examination,


•

as almost everyone is, you will receive a


•

certificate of completion – which you then


•

provide to the DBPR as part of your application.
That is all there is to it!

HARD COPY mailed Price $269.00
ELECTRONIC VERSION download Price $255.00
RESPONSIVE SUPPORT

Since 1988, our team has continued to build the most responsive customer service support in the industry… one person at the time. [blockquote author="Rebecca Kramer"] Thank you so much. I truly value your help and always responding to me over the many past years… actually since around 1989 I think…. but thank you again!"[/blockquote]